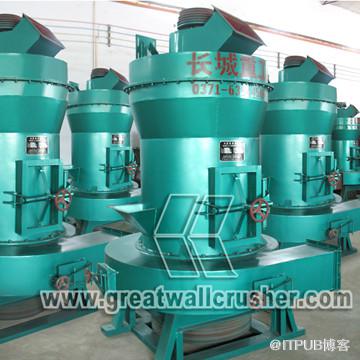 Raymond Mill Usage and Application
The Raymond Mill is used to grind materials in the fields of building materials, mining, metallurgy and chemical industry, and the materials must be non-flammable and non-explosive materials, such as limestone, calcite, barite, dolomite, potassium feldspar, marble, talcum, gypsum, kaoline, medical stone, rock phosphate, manganese ore, glass, ceramic, active carbon, carbon black, fireproof materials, heat preservation materials, chemical materials and so on(300 kinds of materials), the materials should have the hardness less than 7 in Moh's scale and the humidity less than 6 percent. The granularity of the end products can be adjusted from 30 to 325 meshes.
Raymond Mill Woking Principle
After the materials enter the Raymond mill grinding chamber of the main machine, the grinding roller swings outward and presses closely upon the grinding ring due to the centrifugal force generated by the rotation of the main shaft. The blade carries materials to the space between the grinding roller and grinding ring, and the materials are ground as the grinding roller rolls.
After being grinded, the powder will selected by classifier via the cycle wind of the blower, and the rough powder will be bake to the grinding chamber for regrinding, the qualified powder will brought into the powder collector together with airflow, and the powder comes out as the end product while the airflow goes back to the powder collector in cycling to make the Raymond mill work normally, the remained airflow comes out after purification by dust filter.
Raymond Mill Features
1. The whole Raymond mill is of spatial structure , less premise and systemic strong. The whole system from roughing, transportation, powder collecting to packaging forms a independent production system.
2. Even granularity, sieving rate 99%, which is unapproachable for other mills.
3. The driving device applies inclosed gear box and belt pulley, so the transmission is calm and the operation is reliable.
4. All the main parts of Raymond Mill adopt high quality steel, the resistant parts use high-performance proof materials, so the whole system has high wear resistance and reliable performance. The blade frame. of the main machine keeps in touch with the materials , it is consisted of the upper part and lower part, when the lower part is worn down , just take down the bolts to exchange it .
5. Centralized controlling of the electrical system, unmanned operation , easy maintenance.
6. Less dust pollution, low noise.
7. Adopting electro-vibrating feeder , it can feed evenly and is easy to adjust, features miniature size, light in weight, power saving and easy maintenance.
Main Specifications
Model

Grinding Roller

Grinding Ring

Feeding
Size
(mm)

Output size (mm)

Capacity
(t/h)

Motor
Power
(kw)

Overall
Dimension
(mm)

Numbers
(pcs)

Diameter
(mm)

Height
(mm)

Outside
Diameter
(mm)

Height
(mm)

3R1410

3

140

100

495

100

<8

0.613-0.044

0.15-1.2

14.1

3340×2200×3200

3R2115

3

210

150

726

150

<15

0.613-0.044

0.28-1.8

28.2

4480×3100×3970

3R2615

3

260

150

865

150

<15

0.613-0.044

0.35-2.8

35.7

5000×4100×4850

3R2715

3

270

150

884

150

<15

0.613-0.044

0.40-3.4

42.7

5050×4150×4900

3R3015

3

300

150

965

150

<15

0.613-0.044

0.45-3.7

55

5200×4200×4950

4R3016

4

300

160

990

160

<20

0.613-0.044

0.6-4.5

55

5250×5000×5500

4R3216

4

320

160

1073

160

<25

0.613-0.044

1.0-5.2

72.5

7700×7200×8800

5R4119

5

410

190

1400

190

<30

0.613-0.044

2.0-9.0

157.5

7900×8800×9650
Services
1.Pre-sales Service
Offering comprehensive technical and business consultation services;
Proposing the most suitable scheme and equipment for our clients;
Designing and fabricating targeted products according to the special requirements of clients;
Training periodically high qualified service technician.
2.After-sales Service
Highly inspecting equipments in every working procedure, quality comes first;
Fast & Safe Delivery;
Assisting our clients for foundation construction of equipments;
Dispatching engineers to install and debug equipments;
Training the first-line operators on site;
Regularly visit clients to solve production problems;
Providing life-long maintenance service;
Providing technical exchanging;
About Us
With more than twenty years' history, Zhengzhou Great Wall Heavy Industry Machinery Co.,Ltd. is a manufacture which specialized in R&D, manufacturing and selling big and middle size heavy industry machinery. Since establishment, we make a good image in the market with scientific management, qualified products and perfect service.
Our main products are crushers, grinding mills, other equipments for crushing plant and grinding plant, as well as building construction equipments. They are widely used in mining, building material, metallurgy, chemical, traffic, reservoir and so on. Our products are not only sold well in more than twenty provinces and cities in China, but also in tens of countries and regions in Eastern Europe, Middle East, Asia, Africa, North America, South America, and Oceania.
Now we have domestic top ranking production equipments and precise testing instrument, each process of products is strictly inspected to guarantee the products to achieving high ex-factory standard. Besides, we cooperate with many famous universities and scientific research institutions, so that can make technical warrantee for the products in it's developing, updating and improving.
"persons of ability guarantee the quality". Our company takes in persons of ability and gives training to the staffs annually to their quality and skill to meet the development of the company.
With the right of importing and exporting, the company owns an international trading department which is specialized in sales and exports, we provide the best service to the foreign clients.
During the past years, we stick to "honest, truth-seeking, innovation and hard working". To keep "Great Wall" brand, we will improve ourselves and try our best to make perfect products and the best service.
More details about the Raymond mill pls feel free contact us.
Related Products
http://www.greatwallcrusher.com
http://www.greatwall-machinery.com/
http://www.greatwallmills.com/
http://www.great-wall-mill.com/
http://www.china-crusherinc.com/
http://www.dieselmotorcrusher.com/
http://www.china-stone-crusher.com/
http://www.great-wall-cone-crusher.com/
E-mail:greatwallgroups@163.com
Copyright Statement
The ownership of all the Raymond mill information including the photos and product specifications belongs to Great Wall Heavy Industry, If reproduced, please indicate the original source and the statement of the enterprise, any infringement may lead to the civil,administrative or criminal responsibility.
raymond mill.jpg
来自 " ITPUB博客 " ,链接:http://blog.itpub.net/28840624/viewspace-761776/,如需转载,请注明出处,否则将追究法律责任。